Rigby
Level:
20
Faction:
Atlas Brigade
Price:
1,000 coins
Alias:
Rigby
Rigby is a playable exosuit of the Atlas Brigade. It was released on July 16, 2012 along with Skips. His Weapon Mod, similar to Flapjack, increases the Tridex's firing rate. Rigby is available for purchase at level 20 for 1000 credits.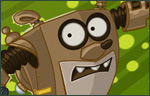 Ad blocker interference detected!
Wikia is a free-to-use site that makes money from advertising. We have a modified experience for viewers using ad blockers

Wikia is not accessible if you've made further modifications. Remove the custom ad blocker rule(s) and the page will load as expected.