Finn's Treehouse
is a playable Enviornment on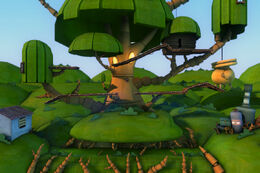 Project Exonaut
. This environment was inspired by
Adventure Time.
and is where
Finn
and
Jake
live in the show.
This place is good place to battle for team battles, since there is a lot of space to move around in.
Jiggler: Play 10 matches on this map
Beemo: Play 100 matches on this map
True Hero: Win 100 matches on this map
Extreme Adventurer: Win 500 matches on this map
Music from Environment
Edit
Ad blocker interference detected!
Wikia is a free-to-use site that makes money from advertising. We have a modified experience for viewers using ad blockers

Wikia is not accessible if you've made further modifications. Remove the custom ad blocker rule(s) and the page will load as expected.